This is the final installment in the Harry Potter Series. I am aware quite a number of people haven't read this yet so I promise - NO SPOILERS.

A few years back, my cousin had the fourth Harry Potter Book (Goblet of Fire) lying around at home and I decided to read it because I was bored out of my mind!

I didn't expect anything exciting but once I started reading it, I just couldn't put it down - I finished it the same day. Shortly after, I went out to buy the first 3 books and I loved them ALL! I read the fourth book again and then anxiously awaited the 5th book(The Order of the Phoenix) - I must admit this book was a disappointment, it felt like a long long long drag and then a much loved (to Harry) character died and I must admit, I didn't feel anything... the book was just dry! That waste of space movie - Pirates of the Carribean II was the same, a waste of hours of my life jut to build up to the next book... I must admit the movie version of the 5th book was much better than the book but once again it wasn't completely true to the book... I digress.

Even though I didn't like the 5th book, I was on the queue at the Tesco near home to buy the 6th boook (Half Blood Prince) and it was much much better than that nonsense 5th book! It still wasn't as good as the 4th one(which is my favourite).

I just finished the 7th book and I must admit, the first 200/250 pages were not impressive but suddenly, out of nowhere... things picked up and I stayed up last night reading it.... I think the JK of the first 4 books came back in this book. I enjoyed it. She killed off some characters as expected but it was only 2 characters' deaths in this book that moved me...

The Harry Potter series was VERY GOOD! The first 4 were fantastic, the 5th - waste of space, 6th - Good, 7th - Very Good!

If you are lucky enough not to have read any of the books yet, I am jealous of you because you have a lot to look forward to.

Trust me - I am going to start with the books all over again, from The Philosopher's Stone all the way to the Deathly Hallows... in a couple of months.



Synopsis: The story of a teenage girl who, after being brutally raped and murdered, watches from heaven as her family and friends go on with their lives, while she herself comes to terms with her own death. The novel received a large amount of critical praise and became an instant bestseller.

I have mixed feelings about this book... sometimes I really loved, other times it felt like it was just okay. It's a really moving story about a girl who is murdered by a neighbour. From heaven, she gets to watch her friends and family and how they deal with her disappearance and death. She has a younger sister and little brother and she sees how her death affects her family. Her parent's relationship, her friends relationships, her father trying to find out who killed her... but she can't communicate with anyone... oops, I'll be back to write more, gotta run.
I am going through books at an alarming rate right now...

I most recently read: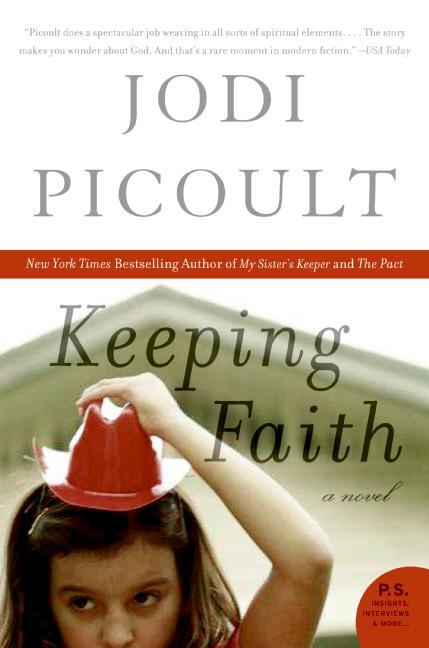 Synopsis: For the second time in her marriage, Mariah White catches her husband with another woman, and Faith, their seven-year-old daughter, witnesses every painful minute. In the aftermath of a sudden divorce, Mariah struggles with depression and Faith seeks solace in a new friend - a friend who may or may not be imaginary. Faith talks to her "Guard" constantly and begins to recite passages from the Bible - a book she's never read. Fearful for her daughter's sanity, Mariah sends her to several psychiatrists. Yet when Faith develops stigmata and begins to perform miraculous healings, Mariah wonders if her daughter - a girl with no religious background - might indeed be seeing God. As word spreads and controversy heightens, Mariah and Faith are besieged by believers and disbelievers alike; they are caught in a media circus that threatens what little stability they have left. What are you willing to believe? Is Faith a prophet or a troubled little girl? Is Mariah a good mother facing an impossible crisis ... or a charlatan using her daughter to reclaim the attention her unfaithful husband withheld? As the story builds to a climactic battle for custody, Mariah must discover that spirit is not necessarily something that comes from religion but from inside oneself.

I am a Jodi Picoult fan and I have enjoyed almost all her books. I found this at a charity shop and I bought it OFCOURSE. I really enjoyed it... I think they left some things unfinished(e.g. Ian's(Maria's love interest) autistic twin brother) at the end and the last page of the book... hmmmm..
Buki's Rating: 7/10


Synopsis: The discovery of a dead infant in an Amish barn shakes Lancaster County to its core. But the police investigation leads to a more shocking disclosure: circumstantial evidence suggests that eighteen-year-old Katie Fisher, an unmarried Amish woman believed to be the newborn's mother, took the child's life. When Ellie Hathaway, a disillusioned big-city attorney, comes to Paradise, Pennsylvania, to defend Katie, two cultures collide — and, for the first time in her high-profile career, Ellie faces a system of justice very different from her own. Delving deep inside the world of those who live "plain," Ellie must find a way to reach Katie on her terms. And as she unravels a tangled murder case, Ellie also looks deep within — to confront her own fears and desires when a man from her past reenters her life.

This was a good book! I like Jodi Picoult but I noticed something in these last 2 books of hers I read. She doesn't tie up all loose ends. It's like we are left to assume what happened. She mentioned ghosts and the girl seeing her sister's ghost... please what did that have to do with anything... She didn't need to add that, I know she was trying to explain the realtionship between the girl and the father of the baby but... I don't know.
Ghosts aside... Very good book!
Buki's Rating: 7.5/10


Synopsis: Like all would-be Hollywood screenwriters, David Armitage wants to be rich and famous. But for the past eleven years, he's tasted nothing but failure. Then, out of nowhere, luck comes his way when one of his scripts is bought for television. Suddenly, he's the new toast of Hollywood as the creator of a hit series. A new player in Tinsel Town, David reinvents himself at great speed — notably and especially by walking out on his wife and daughter for a young producer who worships only at the altar of ambition. But David's upward mobility takes a decidedly strange turn when a billionaire film buff named Philip Fleck barges into his life, proposing a very curious collaboration. David takes the bait, and finds he has inadvertently entered a Faustian Pact, one that results in an express ride to the lower depths of the Hollywood jungle.

I have read one or two of his books and I really liked 'The Pursuit of Happiness'(nothing to do with the Will Smith movie). This book started really slow... I didn't enjoy the first 100 or so pages but things picked up eventually and it finally became fast-paced, as expected. The end was bittersweet... you just can't have it all.
Buki's Rating: 6/10


Synopsis: Since Sandy Shortt's childhood schoolmate disappeared twenty years ago, Sandy has been obsessed with missing things. Finding becomes her goal – whether it's the odd sock that vanished in the washing machine, the car keys she misplaced in her rush to get to work or the graver issue of finding the people who vanish from their lives. Sandy dedicates her life to finding these missing people, offering devastated families a flicker of hope.
Jack Ruttle is one of those desperate people. It's been a year since his brother Donal vanished into thin air and the sleepless nights and frantic days aren't getting any easier. Thinking Sandy Shortt could well be the answer to his prayers, he embarks on a quest to find her ...

I read 'P.S. I love you' and 'Where Rainbows End' - I really really liked them. Then I read 'If You Could See Me Now' which I really didn't enjoy so I was not too sure about this book but I was desperate(cos I had just finished the book I was reading and I needed a book for my tube and train journeys for that day). The book was just OK. If you can get it from your local library, do. But I won't advise you to spend your hard earned money on it... True.
Buki's Rating: 5.5/10

Waiting in line
The Lovely Bones by Alice Serbold
A Special Relationship by Douglas Kennedy
The Tenth Circle by Jodi Picoult